It's here! Keller Mortgage comes to Dallas… yes,
Keller Mortgage Dallas!
Keller Mortgage – Now Available in Dallas!
Zero-Plus Loans from Keller Mortgage Save KW Clients Thousands!
Dallas mortgage lenders have NEW competition! Keller Mortgage has arrived with Zero-Plus Financing.
ZERO cost, competitive rates, PLUS a cash bonus!
To apply or learn more: Text "kwq7xaw" to 87778 or Get The App
Keller Williams Made Us Tell You About Zero-Plus! As fiduciaries for your best interests as a client, when we can save you money, in this case significant amounts, we are duty-bound to share. The Zero-Plus loan offered by Keller Mortgage is literally saving our KW clients thousands. Take a look at the following chart: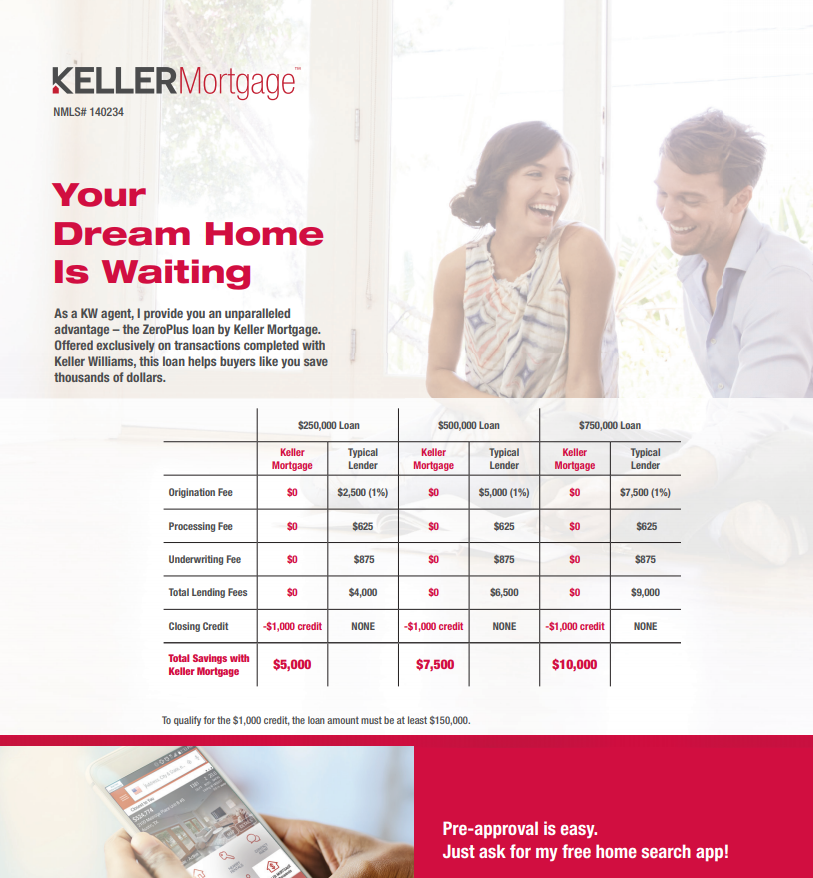 To give Keller Williams clients yet another advantage in the home market, the company has formed a tech-based, centralized mortgage origination company which is offering unbeatable terms. Zero origination fee, zero processing fee, zero underwriting fee, no lender fees whatsoever, with competitive, market rates. The "Plus" is if the loan is at least $150,000, the company issues a credit for $1,000. The combined savings is unmatched in the industry and impossible for local, bricks-and-mortar banks and mortgage companies to compete with. KW clients win!
Market Advantage for KW, Total GAME CHANGER!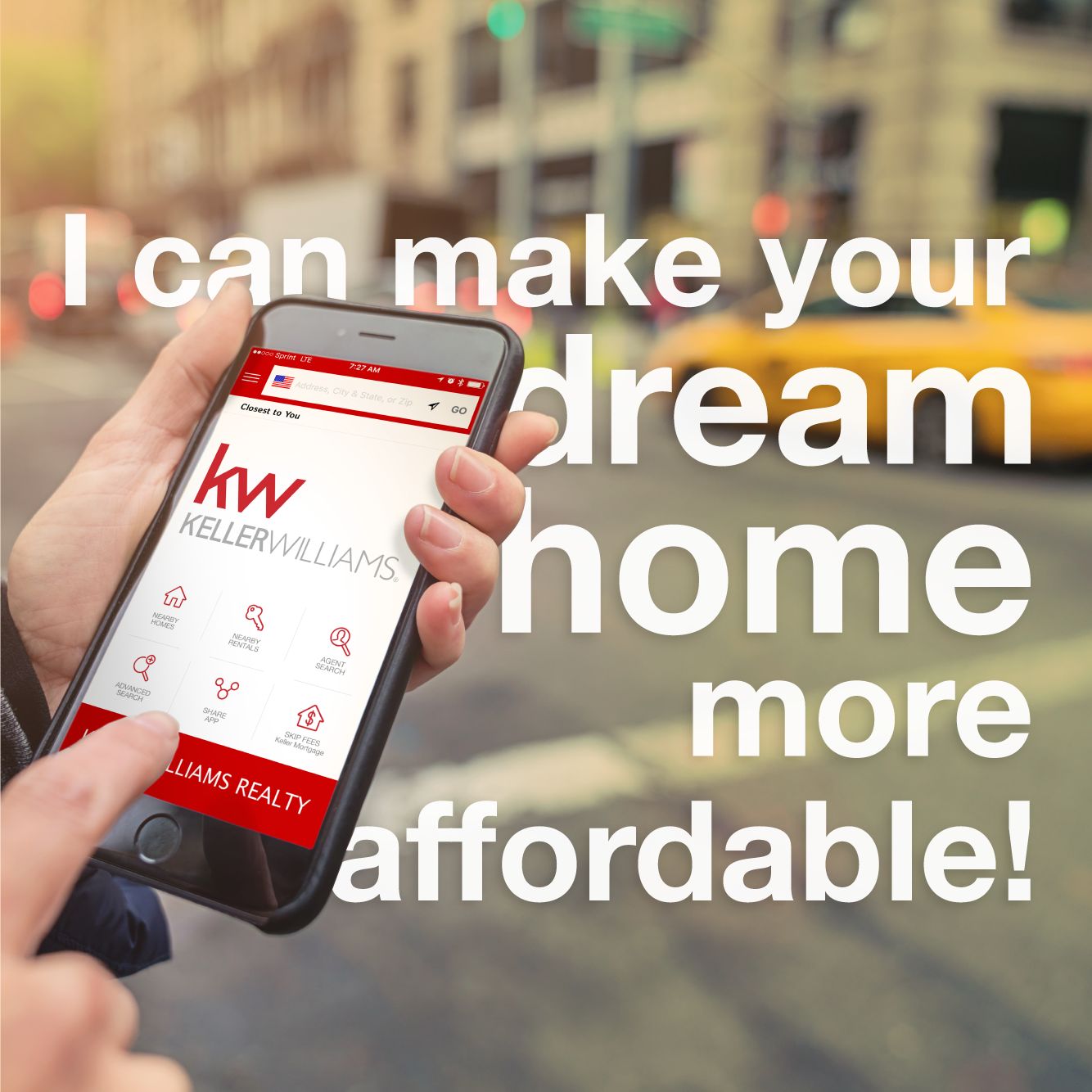 It's a game changer, because it's only available through KW agents. Clients can get a loan for a purchase or refinance, but they have to be working with a Keller Williams Realty Realtor. Simply, you download our branded mobile app while shopping for a home or loan, then click to prequalify for a Keller Mortgage Zero-Plus loan.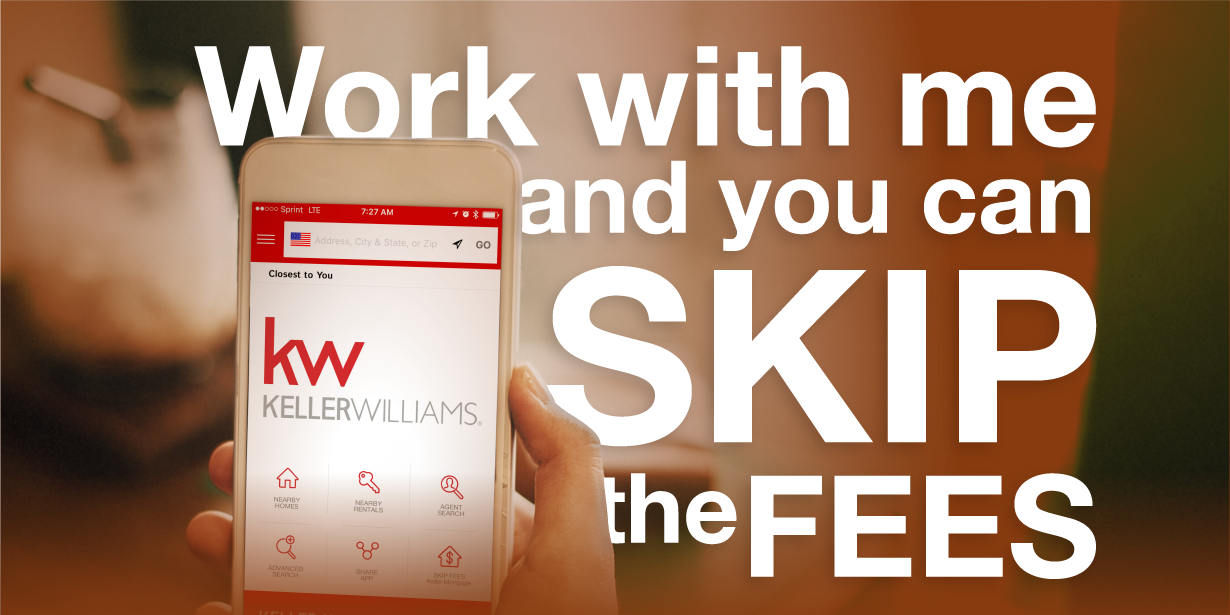 For Home Buyers – This means working with us saves you thousands of dollars. This is on top. Beyond our competitive advantages of the best tech, expertise, size, market dominance and speed to react. This is extra savings, and an unbeatible reason to use our services again and again.
For Home Sellers – This literally takes thousands off your price to buyers. Essentially, you are offering free-money financing of your home! We can offer a buyer of your home, even when represented by another broker, access to the Keller Mortgage Zero-Plus loan. This makes buying your home more affordable than the others at the same price!
For Zero-Plus Refinance – A perk of being a past or future client of Keller Williams Realty is taking advantage of refinancing your mortgage without all the closing costs.
To Apply: Text "kwq7xaw" to 87778 or Get The App:
Frequently Asked Questions about Zero-Plus Financing
Q: Are Keller Mortgage Loan Officers Experienced?
A: Yes, Keller Mortgage loan originators average 8.5 years of experience. Several are nationally ranked loan officers.

Q: What is a POD?
A: POD stands for Purchase Only Delivery system. The key personnel who make a purchase loan "happen" work together in a synergistic manner and stay focused on Keller Mortgage's ONE Thing – get the loan closed on time! We appreciate the sensitive timing of a purchase contract, staying ever mindful of buyers' earnest monies and deadlines. To stay focused, all refinances are handled by a separate department within Keller Mortgage.
Q: Are Keller Mortgage Zero-Plus Loans only 30-yr. fixed?
A: No, this "no fees + $1,000 credit" loan special is also available for 10-, 15-, and 20-year fixed rates. As well as adjustable rate mortgages.

Q: Can the buyer buy their rate down?
A: Yes, we allow discount points to bring your interest rate down below market rates. We provide a detailed "payback period" consultation to help buyers decide the best course of action. Often, when buyers see how many it takes to recoup the initial outlay, they decide to forgo buying down the rate.

Q: Do buyers get this special deal on investment property?
A: Yes, with sufficient down payment.

Q: What do you do to ensure on-time closings?
A: Great deals are only helpful if they close on time. Keller Mortgage was built by Realtors®
for Realtors®. We understand deadlines and never putting earnest money at risk. To
close on time, Keller Mortgage has three unique steps to streamline the process:
(1) Start early with a thorough DU pre-approval
(2) Order appraisals on day 1 of an executed contract
(3) Review Closing Disclosure with buyers at least five days before closing

Q: Do both the buyer and the seller have to be working with KW agents?
A: No. As long as a KW agent represents either the buyer or the seller, it qualifies as a KW transaction.
Start Your DFW Home Search | Download Mobile Search App | Homes For Sale in North Dallas Suburbs
The Hollers Team
Realtor
Keller Williams Realty Dallas
214-384-1169
Licensed In: TX
License #: 0489685
Contact Me



You Can Also Visit Us At: