TOP 3 MUST-KNOWS
Before Your Homeowners Claim!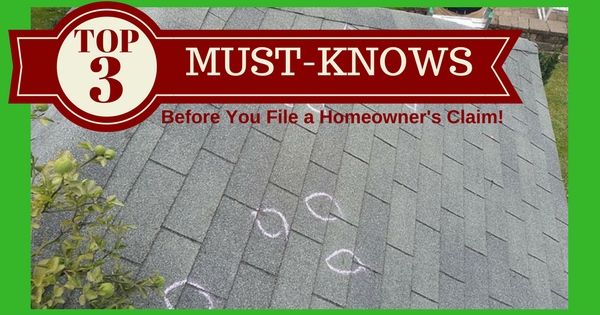 Realistically, it's not IF, it's WHEN. At some point, if you are a homeowner, especially in North Texas, a homeowners claim is likely. In the Dallas area, we get hail storms, tornadoes, and of course, water damage from broken pipes and water heater tanks are more common than many realize.
We visited with an owner of an independent insurance agency and an independent insurance adjuster. Together, we came up with the Top 3 Must-Knows Before You File a Homeowner's Claim. This is especially important for Dallas area homeowners with our frequency of hail and ice, yet it applies to every owner of real property with hazard insurance. Here's the series in full with an explanation of each:
Top 3 Must-Knows Before You File a Homeowner's Claim:
#1 – Know Your Coverage. John Allen, owner of Community Insurance Advisors of Plano, TX talks about the super-important difference between the "Named Perils" policy sold by many name-brand companies, compared to "All-Risks" type policy. It's okay to shop price, it's not okay to be misled about your coverage, literally on the roof over your head!
#2 – Contact a Independent Adjuster. This one most people don't know, so in some ways, it's the best of the 3! Watch the video:
Benny Wright, regional director with Jansen Adjusters International, personally visits the fire-damaged and flooded homes, discovers the damage caused and learns the stories first-hand from Texas homeowners about disputes and delays with insurance claims. The stress and financial distress can be enormous!
When you file a claim, the process is not called consulting, they call it adjusting, and it is not a process designed for your best interests. Consider consulting someone like Benny before filing a claim, it does not cost you anything! Back with John & Benny to cover Must-Know #3…
#3 – Coordinate a meeting of minds between your adjuster and contractors.
Why are these logical, yet easily-missed tips considered Must-Know?
Because insurance is purchased based primarily on price, and so it's sold in mass media advertising by quoting the lowest price (and often coverage) possible. The choice is with the consumer, yet they should be informed in ways they are not so most people don't realize the differences.
The differences get missed in the details. While it's good to get the bundled-deal with home and auto, coverage details matter. The difference in coverage is often huge while the price is negligible, for "All Risks" vs. "Named Perils" and to get the water endorsements necessary to assure all physical and financial damages are covered.
Know your policy is important, as is what to do when a storm hits regarding contractors and such, but also there's a big advantage in having advice outside of your insurance company. Before you need one, we highly recommend knowing an independent insurance adjuster, so I made one more short video with Benny Wright:

To Contact Benny Wright at Jansen Adjusters International:
Jansen Adjusters International Dallas Office:
17130 North Dallas Pkwy
Suite 210
Dallas, Texas 75248
800.992.7771
972.267.2430
972.267.2330 (Fax)
To Contact John Allen at Community Insurance Advisors:
1400 Preston Road
Suite 345
Plano, Texas 75093
972.758.9300
972.758.9355 (Fax)
Other Helpful Resources:

The Hollers Team
Realtor
Keller Williams Realty Dallas
214-384-1169
Licensed In: TX
License #: 0489685
Contact Me



You Can Also Visit Us At: