Americans Agree,
Real Estate Is the Best
Long-Term Investment
Every year, Gallup surveys Americans to determine their choice for the best long-term investment. Respondents are given a choice between real estate, stocks/mutual funds, gold, savings accounts/CDs, or bonds.
For the fifth year in a row, real estate has come out on top as the best long-term investment!
This year's results showed that 34% of Americans chose real estate, followed by stocks at 26%.
The full results are shown in the chart below: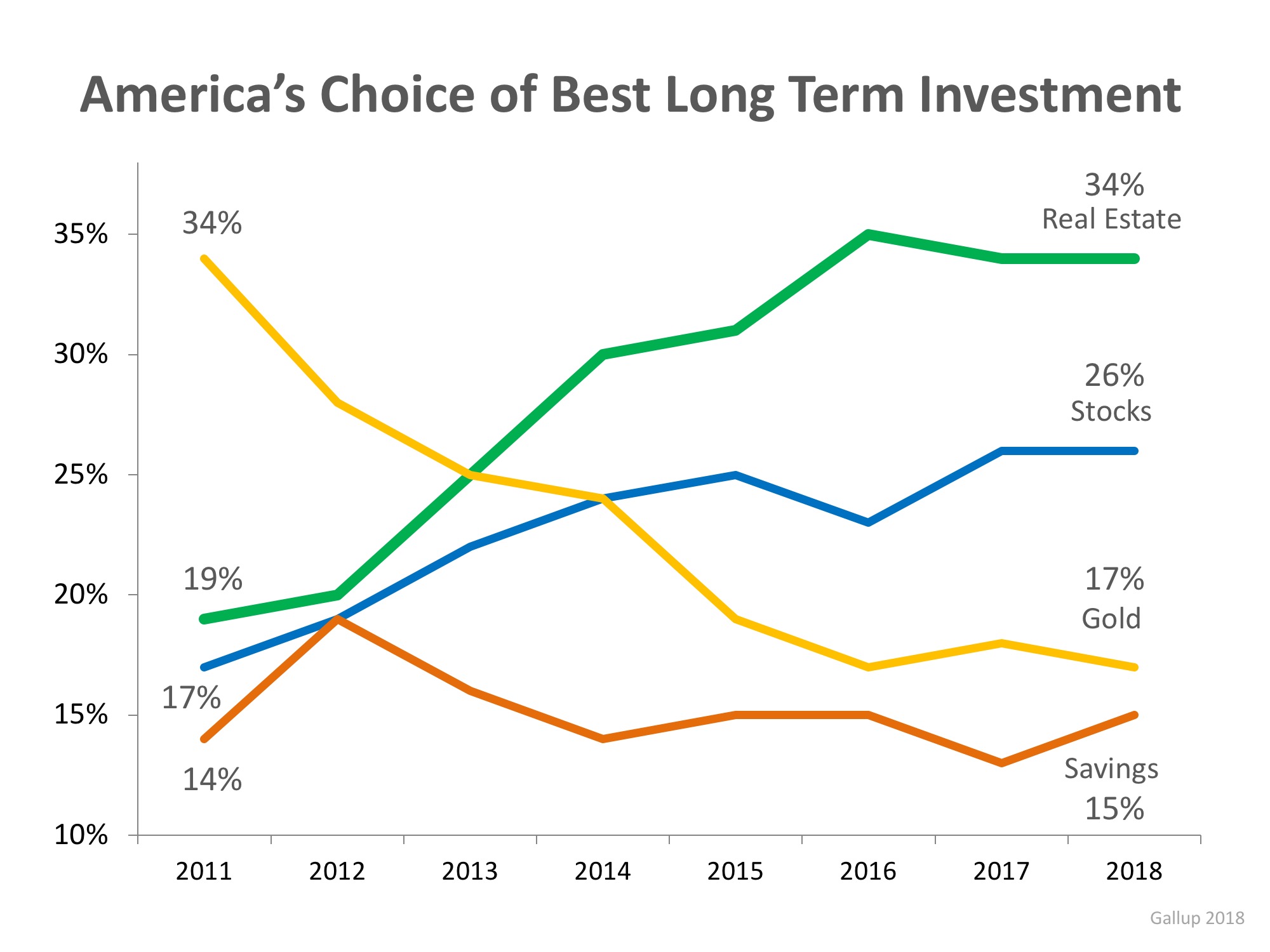 The study makes it a point to draw attention to the contrast in the sentiment over the last five years compared to that of 2011-2012, when gold took the top slot with 34% of the votes. Real estate and stocks took second and third place, respectively, while still in recovery from the Great Recession.
Most home owners are not fully aware of their personal options. In busy lifestyles, most of us don't allow ourselves to stop and consider our personal possibilities, such as what we can do, when we can do it, and where we could live. In north Texas, home appreciation over the past years has been unprecedented on our local market. For this reason, over half of residents of Dallas area suburbs are not aware of how much home equity they actually have, and what they could do with it.
As interest rates rise, it's an ideal time to right-size your home. The higher rates predicted will have an impact on how many buyers are in the market when you sell as well as your personal home purchasing power. Current market strength, combined with what are still historically low interest rates make now an ideal time to make a move if your house is not ideal for your needs.
Learn the Current Market Value of Your Home
For many reasons including homeowner's insurance, estate planning, considering when to finance, or when to make the next move, knowing your options and personal possibilities starts with being aware of your equity and current home value.
When you would like to visit about making the very most of your next move, just HOLLER!
Recent related posts: Interest Rates Have High Impact on Your Home Purchasing Power, Keep Stress & Costs Low when Applying for a Mortgage, 7 Must-Have Documents for Your Mortgage Application
Your Dallas Area Home Search | Avoid Fees, Save Thousands with Keller Mortgage | Get KW Mobile Home Search App
The Hollers Team
Realtor
Keller Williams Realty Dallas
214-384-1169
Licensed In: TX
License #: 0489685
Contact Me



You Can Also Visit Us At: